Ketogenic Diet Results – Monique Lost 30 lbs
Can you eat fat and lose fat?
It might sound impossible to some people, but not for Monique.
Her progress is impressive because on the scale she lost 30 pounds but visually it might as well be 60 pounds.
She has received so many messages asking her over and over again about the "mistake" that she made number wise.
I am always excited to learn about keto weight loss journeys of people who change their life because of LCHF diet.
Monique will take you into her ketogenic lifestyle, and how she achieved such great success.
Here is Monique: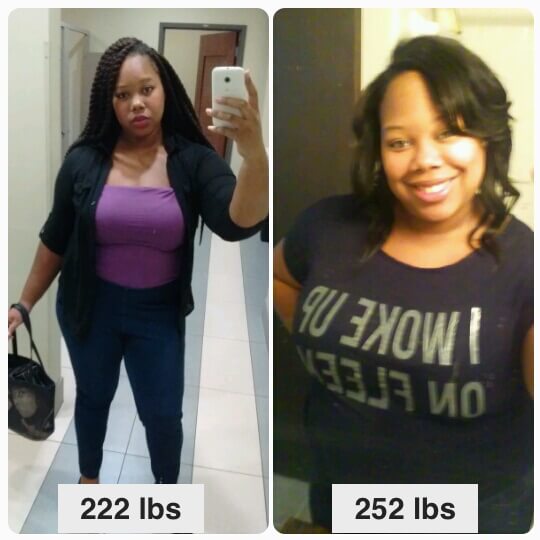 Bio:
Name: Monique Height: 5'6″ Start Weight: 252 Current Weight: 222 Goal Weight: 175
Daily Macros:
Fats: 109g Carbs: 25g net carbs. Protein: 96g Calories: 1,467
Interview Questions
What was the last straw that made you change your lifestyle?
The last straw that made me change my lifestyle was when I noticed that I could barely pick up my 2-year-old son without being out of breath. I knew that my health was in jeopardy if I did not make a change and I had to do something or possibly not live to see him grow up.
Could you take us to the story that brought you to keto?
I noticed that I was always tired, irritable, bloated, and generally unhappy.
I began feeling dizzy and having blurred vision and decided to make a doctor's appointment. After running some labs my doctor determined that I was pre-diabetic and recommended that I make some changes to my diet before starting me on any medication.
I googled "low-carb diets" and ran across several websites referencing the ketogenic diet and after reading several testimonials I decided that keto was it.
What mistakes have you made while starting keto?
The only mistake that I have made while starting keto is being around people that were still living an unhealthy lifestyle.
I never realized that others could go to gr. I continued to stick with it and now the same people are
Can you share with us your typical grocery list?
My typical grocery list:
Keto Meats
Bacon
Ground beef
Chicken thighs/breasts
Dairy
Oils
Broccoli
Cauliflower
Salad Mix
Side items, drinks, cooking
Pepperoni
Almond Flour
Coconut Flour
Powerade Zero
Mayo
Eggs
Have you had any plateaus, and how do you deal with it?
Surprisingly I have only had 1 plateau that lasted for 2 weeks. I decided to try intermittent fasting.
I drank water for the entire day and left a 4-hour window for eating. After doing this for 2 days I weighed myself and was down 2 lbs.
Do you exercise on keto? If so, what is your exercise routine?
I do 30 minutes of cardio 3x per week. I love dancing, so I have a 30-minute playlist of upbeat music and I create high-energy dance moves to those songs.
Could you share your favorite keto recipe?
My ultimate favorite keto recipe is Cheese crust pizza. I missed pizza so much when I first started keto but not anymore!! Recipe link
How weight loss impacted your life the most?
Weight loss has impacted my life in so many amazing ways.
I now have the energy to play with my kids, and I'm finally in a 1x (soon to be XL) after being in a 2x for several years.
I feel better overall and getting compliments from family, friends, and co-workers feels great.
What keeps you going?
What keeps me going is knowing that I am doing something good for my body.
I had a negative relationship with food for so many years that it feels great to finally have a positive one.
I don't want to look back and remember my 20s as being overweight and miserable. I want to look back and say "dang girl you looked good!!"
---
If you are amazed by Monique's progress and want to start with keto, here is my free 7-day ketogenic meal plan.
Do you want to take the research, frustration, and guesswork out of the picture? Try my keto coaching services.
(Visited 385 times, 1 visits today)