Moon Cheese Giveaway
When it comes to crunchy foods, there are not that many keto friendly options out there.
Don't get me wrong, pork rinds are great, but I miss chips and Cheetos.
I discovered Moon Cheese on Amazon when browsing for keto friendly foods. I was very intrigued by amazing testimonials that it was receiving.
When I got my first bag of them, I devoured it within 10 minutes. It was soooo good. I wish it lasted a little longer. My favorite flavor so far is Pepper Jack.
In comparison to Cheetos they take longer to chew, and they a lot richer because of real cheese.
Here is their nutritional information: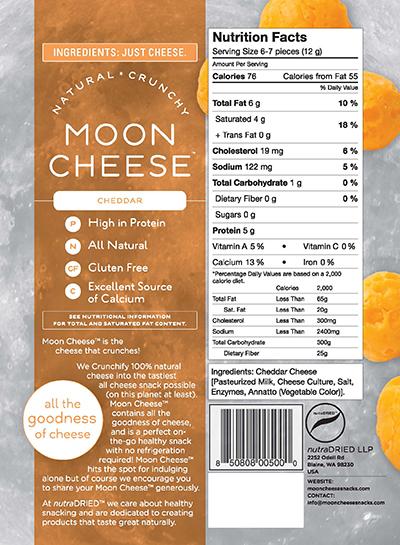 I contacted Moon Cheese and they agreed to do a giveaway of their delicious ketogenic snack for my readers. It is perfect for people, who are constantly on the go. It will definitely satisfy your crunchy cravings!
Learn more about Moon Cheese here
Giveaway (CLOSED)
If want to win an amazing 3-PACK of this cheesy goodness, follow instructions below.
Like Ketogenic Lab on Facebook here.
Enter a giveaway here.
Update: 159 participants.
WINNER: Jennifer Hunt
The winner will be announced Oct. 10th. Good Luck!
(Visited 73 times, 1 visits today)